'Flight of the Bumblebee'
Teacher Training-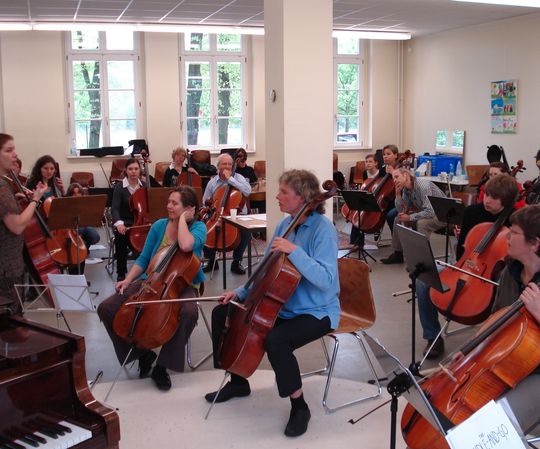 Dr. Sera Smolen leads workshops for both teachers and students in "Creative Ability Development" in Europe, the United States and Canada for over thirty years. The above picture is taken during the second of five visits to a group of music schools in Koln, Germany.
She has been the Assistant Director and education co-ordinator of the New Directions cello festival for over 20 years. www.newdirectionscello.org
I specialize in teacher training in the area of "Creative Ability Development", developed by Alice Kanack and Dr. Shinichi Suzuki.  This offers a joyful, accessible, and pedagogical way for teachers, families and students to cultivate their creative talents parallel with repertoire studies.  I love to teach teachers, groups of teachers, and entire faculties at a school how to incorporate Creative Ability Development into their program. We start at the Pre-Twinkle stage with a collection called "Playing from the Heart".  Also "Improvising Music with Children".  When young musicians are ready to improvise at the instrument, we use "Fun Improvisation for Cello" (with parallel books with CD which are pedagogically tailored to the piano, as well as one for violin). "Improvising String Quartets" in the Creative Ability Development series, we learn how to introduce improvisation to students who are ready to improvise in simultaneous parts.  Written by Alice Kanack with Sera Smolen, this volume is being well received around the world. "Bass Lines and Fantasies" teaches players to improvise in every key with first a bass line to improvise over, and then a fantasy piece.  More recently I have completed "Off the Page", a well-received collection you can also review on this website.
 In a teacher training seminar, we look at other pedagogies of improvisation, sharing teaching materials from leading practictioners and researchers from around the world.  How string players can learn to incorporate world music, Jazz, blues, avante garde music, and composition into any string program.
Here is what the teachers said: 
"We enjoyed every moment of the training; you are such a charismatic artist.  Your training taught us no only the facts, but also how we can create a more positive teaching environment at our school.  Sharing and shaping our creative side by playing together for hours each day created unity and acceptance among us.  These principles are at the heart of good education, which nurtures talent in our community."  --Faculty from the North York Suzuki School, Ontario, Canada
"Thank you for being with us.  It was a life experience for every one of us.  Your tremendous love, curiosity and dedication to music was transforming to our faculty.  Now, Creative Ability Development is part of our standard curriculum, and we are looking forward to a very exciting school year.  Thank you for your generous offer to continue supporting us at our school."--Faculty from North York Suzuki School, Ontario, Canada
---
"All children are born creative;  
creativity is nurtured in the environment"
- Alice Kanack, Creative Ability Development
---
About Smolen's work:
"I have been witness to her teaching at major seminars for students of all levels and she has exhibited a rare and unusual talent for communicating the profound qualities of music and performance...It's quite unusual to find someone like her who can be as diverse in teaching both classical and improvisation techniqes...As an active performer and recording artist, Sera's contributions have been included in our 1997 sampler CD "Improvising Chamber Music"--David Darling, Artistic Director and co-founder of Music for People
"By the time our first session was over, I was already anxious to gather my cello students together and share what I had experienced"--Teacher Trainee
"Sera's ideas helped the students to develop deeper relationships with their principal instruments while also developing their understanding of music, themselves, and their clients. Sera provided a wealth of possibilities for the students to use in their sessions--many of which I saw in clinical supervision. Sera sparkd the students' creativity and enthusiasm for their profession".--Elizabeth Grovenstein, Music Therapy Professor
"I will take parts of every workshop with me throughout my career and life."--Music Therapy Student
"In your workshops I have seen nothing but truth and honesty in your music, your love for others, and joy for humanity." --Music Therapy Student
"Wow! Your always-present, warm soul has opened up a jewel in me! I haven't felt this exited in so long. I can't wait to begin exploring what you have shown us today."--Teacher Trainee
"You have made it so clear, approachable and easy--I can't wait to introduce these ideas to my studio!"--Teacher Trainee
When asked the question, "what did we do that you liked?,"
the 6-12 year olds said:
"everything"
"very fun"
"there's no such thing as a wrong note!"
"I never knew what we were going to do next"
Parents said:
" they used their ears and played music, not just notes. Their instrument was more a part of them, not just something to play."
"I liked the creativity best and acceptance of any thing that was offerred. The reinforcement of the need to know scales gave a practical example of knowledge"
When asked, "what are the benefits of doing improvisation?,"
the 10-14 year olds said:
"no matter where you go in the world, you can make music with people"
" when you don't feel inspired to work on classical, you can go to the the practice room and just play to get inspired"
"It's fun and you can share music that's spontaneous"
Parents said:
"This requires, in a group situation, a whole new level of listening"
"Improvisation engages huge realms of the brain and heart that don't get
much of a work-out in regular lesson practice"
---
"Performing Music as a Living Art" - by Sera Smolen
I began wondering about improvisation after I read an article on a
college faculty bulletin board which described improvisation performed in
cadenzas of classical and baroque concertos. Before that, no one had ever
used the word improvisation in relation to any of the music I would be
learning. I did not know then that practically all the great classical composers we love
were also great improvisers.
After that, I had a lesson with David Darling, which literally changed
the course of my life. He was unbelievably gracious to me. He took me into
his studio and we begin to improvise. I remember being told that any and
all the notes would be right notes, and it is impossible to make a mistake.
The invitation to drop the obsession with right and wrong notes made my
hands cold and sweaty. Relinquishing this sacred password to all my
classical training took my breath away. Maybe if I were to try this radical
idea, no music at all would come out. I had a headache and felt like I
really needed to go to bed. I imagined myself stepping off the cliff into
"no mistakes land" and just making unimaginable bloopers in front of this
extraordinary musician... He, however, was oblivious to all this and had me
try more improvised pieces, one after another. Mysterious intervals were
struck, intimating truths, moods and colors which emanate from all of life.
We seemed to be world travellers as well as time travellers. The music we
created was, moment by moment, an outrageous and radical departure from all
the music-making I had known. Life, while breaking sacred rules of the
classical music academy was intoxicatingly rich. I was unable to ever go
back to who I was before I knocked on that door.
Since then, I have taken many trainings, and collaborated in countless
projects involving improvisation. For me, the world of the avant-garde
was a perfect arena for me to shed numerous compulsions and beliefs that
had to go in order for me to experience musical freedom. First, I had to
give up on "doing it right" in exchange for sounding authentic. I had to
unlearn sacred obligations to canons of our trade, remove myself from
certain prejudices, orthodoxies, and etiquettes of a "good" musician. I
acquired in the process my own musical voice, musical "syntax", vocabulary
and much much more.
In the old days, I used to say: ".....Oh, out of respect, I could never
play the blues"...I said things like that, and gradually began to realize
that this "respect" was really fear. I had the opportunity to wrestle with
the feelings of internalized racism which run rampant in our world. This
was a most valuable lesson, and introduced me to the thrill of learning
more and more musics from around the world.
Now, musicians are seeing new musical opportunities as we take steps
toward becoming a world community. As we begin to learn musics from other
cultures and from around the world, we begin to become better citizens of
that world. As I go on now to experience and create for myself the nuances
of beauty in Indian music, Turkish music, and Japanese music, I participate
in different aesthetic priorities and new ideals of beauty. The barriers I
thought existed between myself and other people begin to melt away.
I have also learned a great deal from synesthesia: translating one
modality into that of another. For example, I have loved "playing"
paintings. Approaching sound the way a painter approaches a blank canvas has
been useful for me. I have gone on to "play"poems, dances, landscapes, and
improvised music for plays.

"Music has been highjacked from the community into the
concert hall."
Michael Deason Barrow
It is very interesting to make music with more and more
people-- people who have never had a music lesson, people who play an
instrument I have never played along with before, people who are not my age.
I have joined drum circles around the campfire with my cello, improvised in
Hindu temples, in the woods, under the influence, in the dark, with a Lakota
Chief, with my endpin in the river, at senior centers, in the woods, in the
garden, at parties, with children, with people who do not speak my
language...and the cadenza in a concerto...and it has all been very
worthwhile.
--Dr. Sera Smolen